When I first opened Five Star Jewelry I was sure of three things: 1) I wanted to build lasting relationships with my clients, 2) I would only sell impeccably-crafted jewelry at a great price, and 3) I would only sell jewelry that I would personally be proud to wear. 
Twenty-six years later, those original tenets remain the foundation of my business. (It's hard not to feel a bit sentimental when couples who came to me for engagement rings twenty-six years ago now send their children to me for engagement rings!) 
As a personal jeweler, I feel deeply honored to help my clients discover the fine jewelry pieces they'll cherish forever or give to someone they love. From jewelry appraisals and repairs to sourcing the perfect gem/diamond or designing a one-of-a-kind ring, I provide service, support and guidance through every phase of jewelry ownership. 
In 2018 I set the intention to grow my Five Star Jewelry family by hiring someone I trust, who also shares my passion for jewelry design and providing VIP customer care. So, with a degree in graphic design, a gift for photography and art and a heart for service, Taylor Spencer was the obvious choice. She also happens to be part of my actual family since we are cousins! 
Now, with our well-established reputation and a clear vision for the future, we're more excited than ever to be your personal jewelers. I hope you'll reach out to Make an Appointment. 
We'd love to meet you!
Mary Weber-Rupert
GIA Graduate Gemologist & Certified Senior Appraiser
Mary Weber-Rupert, G. G., C. S. A., is the founder of Five Star Jewelry Brokers & Gemologists, which has been locally owned in Austin for over twenty-six years. She graduated from the prestigious Gemological Institute of America in 1994 and became a Certified Senior Appraiser from the National Association of Jewelry Appraisers in 2001. 
As a personal jeweler, Mary is committed to helping each client achieve their fine jewelry goals-whether it is designing the perfect engagement ring or jewelry adornment, sourcing the best-priced diamonds and gems, or repairing and repurposing family heirlooms or outdated jewelry.
Mary creates lasting relationships and an exceptional customer experience by truly listening to her clients' needs and adeptly guiding them through their options. From commemorating life's most significant milestones or simply celebrating beauty in everyday life, Mary feels honored to serve the Austin community and beyond.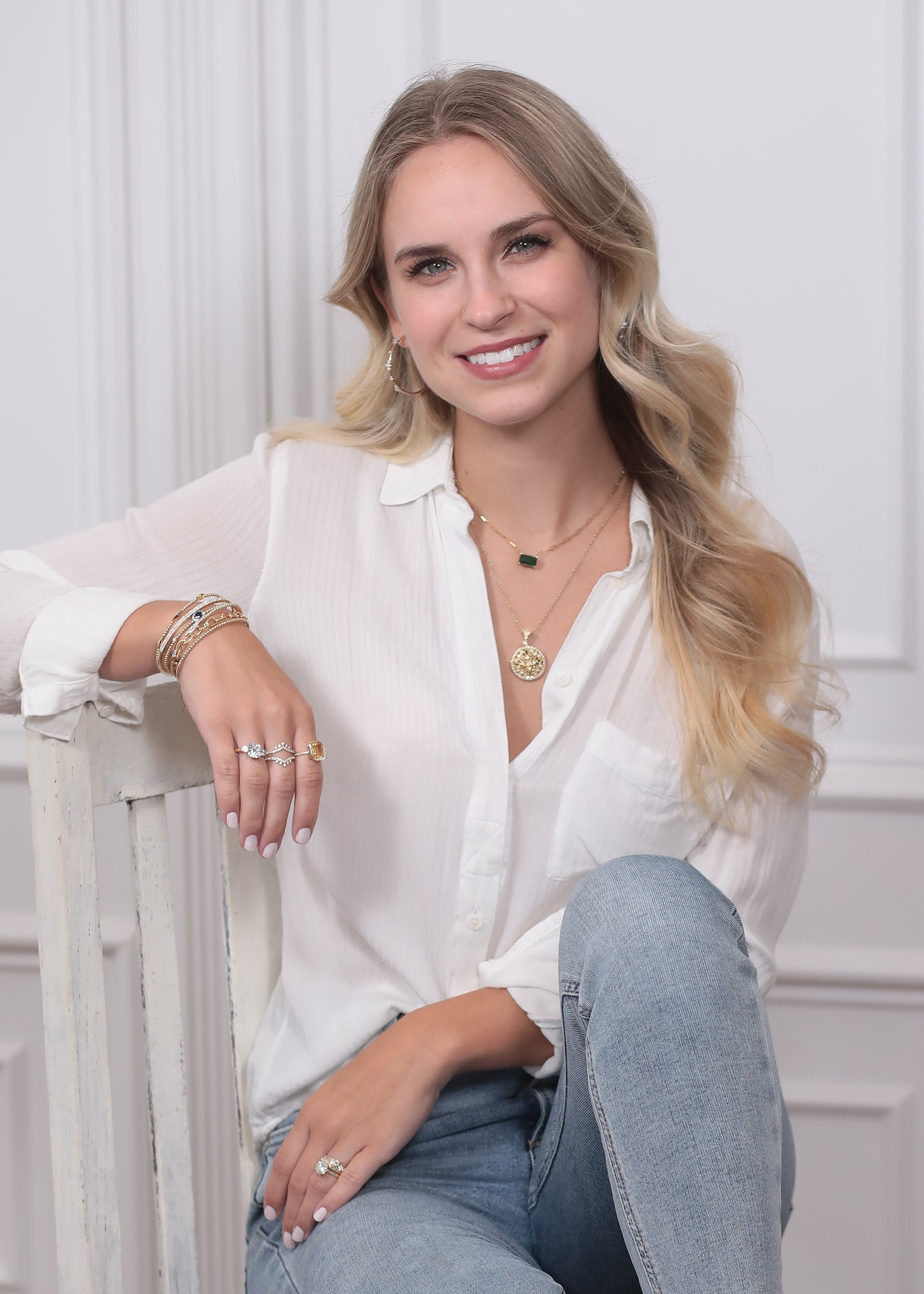 TAYLOR SPENCER
GIA Diamond Expert & Designer, AJP
Taylor holds an AJP diploma from GIA, is a Diamond Graduate from IIJA, and has been designing jewelry since 2018.
As an honored Summa Cum Laude graduate of Texas Tech with a B.A. in graphic design, Taylor possesses an exceptional skill for creating accurate sketches or CAD renditions of her clients' custom design ideas. By patiently "tuning in" to their desires, and then personalizing their jewelry-buying experience, she delivers a truly unique service to every client. 
Taylor's thoughtful approach to sourcing diamonds and gemstones from sustainable mines around the world not only provides her clients with a stunning selection to choose from but also ensures the well-being of the cultures from which these gems originated. 
In her own original designs, she draws inspiration from mother nature by pairing the vibrancy of natural gemstones with the intricate shapes and patterns found in the natural world.