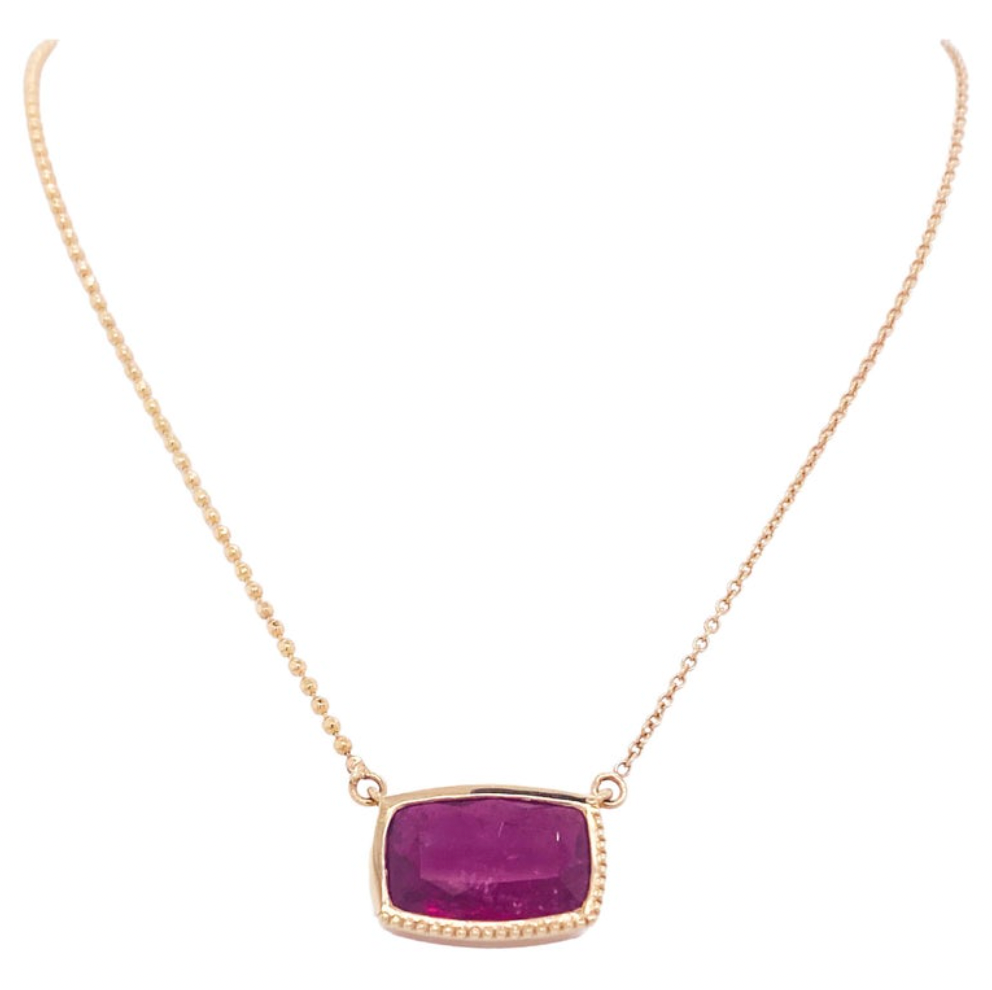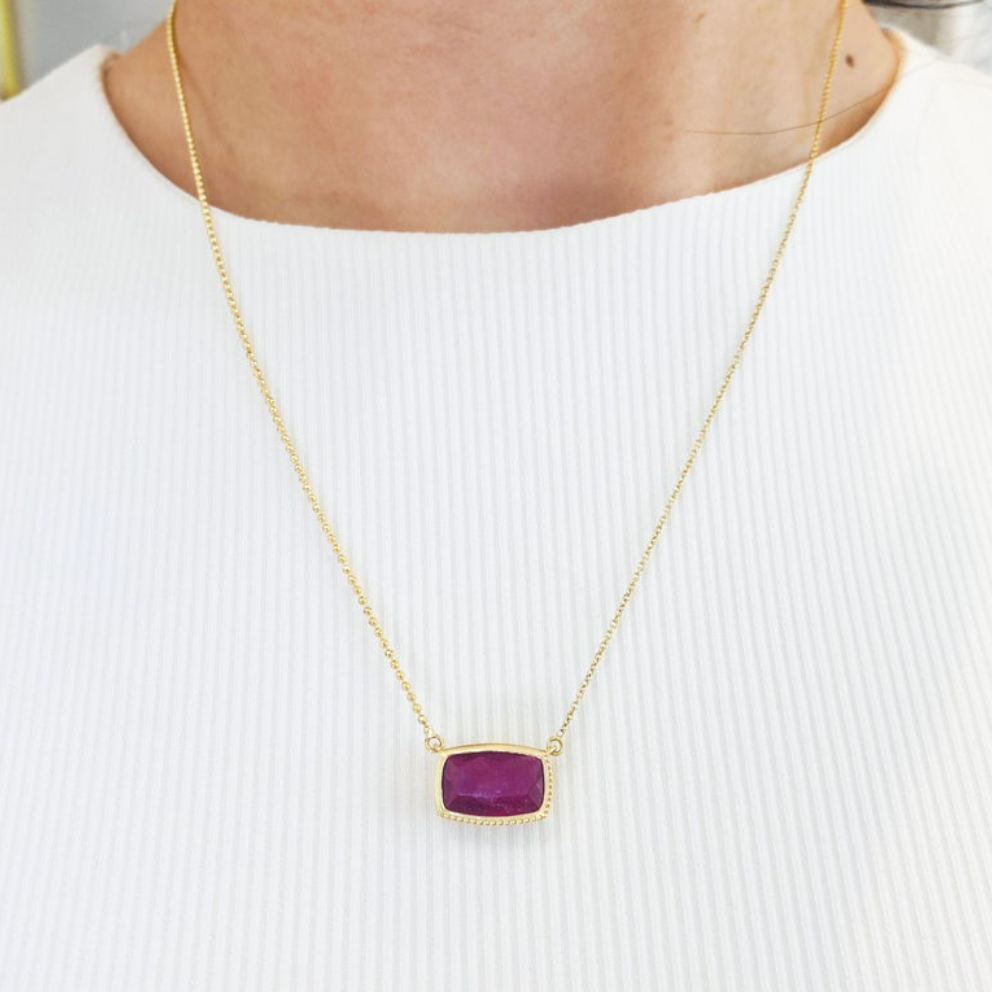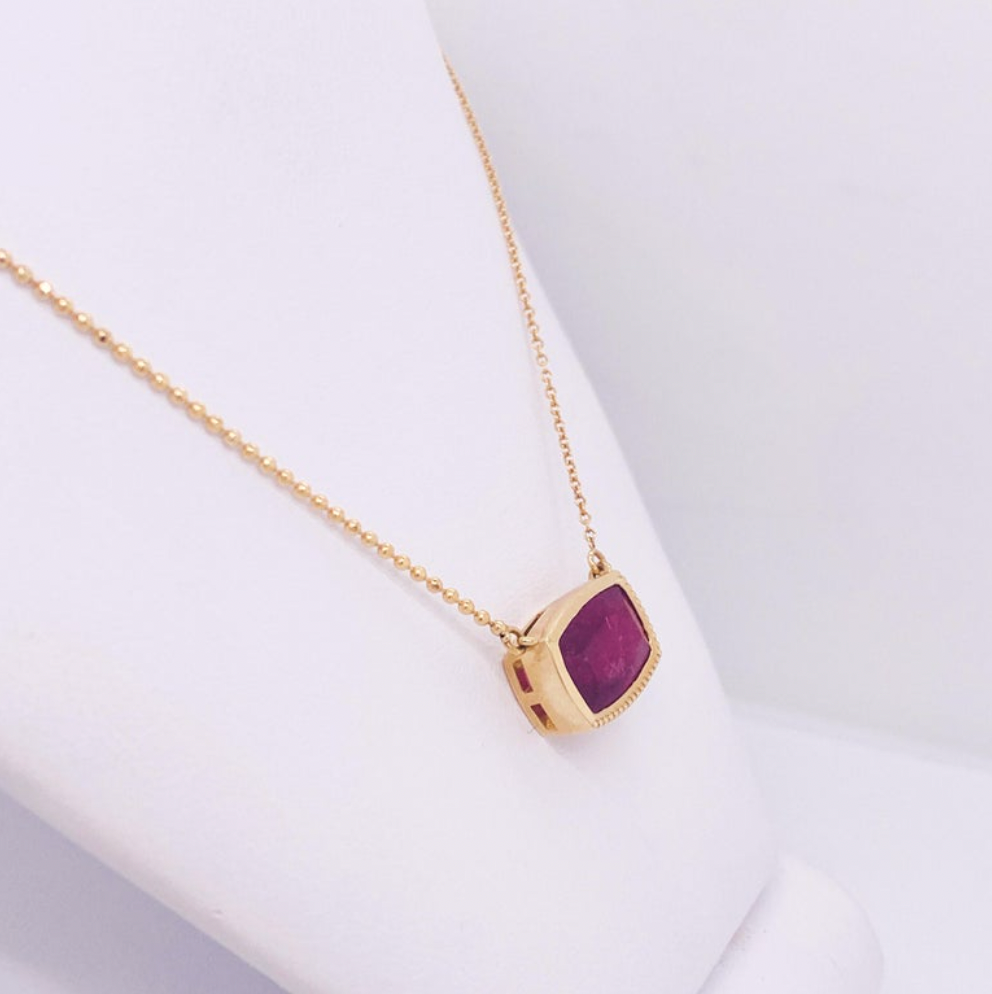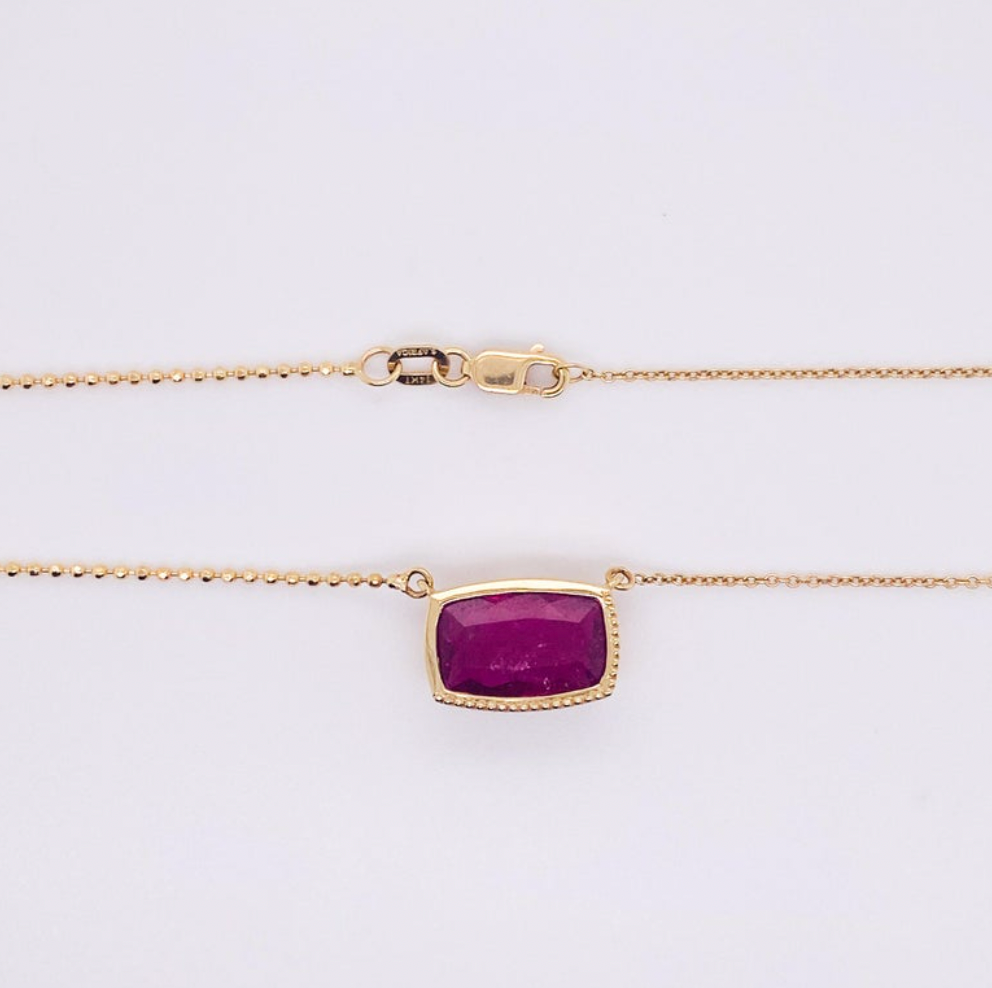 Fuchsia Pink Tourmaline Necklace
Description

Care

Lead Time
Celebrate yourself or a loved one with this pink tourmaline necklace... perfect for any birth, anniversary, graduation, or milestone! The rounded rectangular pink tourmaline has the same rich deep color and shimmer as a vibrantly blooming fuchsia plant! Our photos can't quite capture the rich color of the stone. The sturdy gold bezel is a perfect frame for the pink tourmaline, like warm sun falling on bright blooms as this pendant hangs beautifully balanced around your neck. A design element we love about this necklace is the asymmetry of mixed chain types and finish details. The bezel around the pink tourmaline features a bright polish finish along the north and west edges and a beaded finish along the south and east edges. A beaded chain is attached to the opposite corner of the pendant to the beaded design, and a round cable link chain is attached at the other side of the pendant. This necklace looks wonderful worn alone or stacked. Pink tourmaline is an alternate October birthstone to opal. We are proud to present this piece created by our in-house custom designer Taylor Spencer, stamped 'TVS'. Taylor uses her sketching skills, B.A. in graphic design, and 5+ years of jewelry experience and gemology continuing education classes to make wonderfully creative designs that are meant to last. This necklace is made for the woman who wants to wear her jewelry every day! The tourmaline weighs 2.80 carats in the 0.37-inch tall by 0.57-inch wide pendant. The necklace measures 18.5 inches long. The details for this sleek asymmetric tourmaline necklace are listed below:
Metal Quality: 14 karat yellow gold (stamped)
Complete Weight: 5.1 grams
Pendant Style: Stationary pendant
Measurements of Pendant: 9.5 mm (0.37 inch) tall by 14.5 mm (0.57 inch) wide
Chain Type: Beaded & Cable
Measurements: 18.5 inches long, 1.0 mm diameter (for each chain)
Clasp: Oval ellipse lobster claw
Gemstone: Tourmaline
Gemstone Shape: Rounded Rectangle
Gemstone Color: Deep Rich Fuchsia Pink
Gemstone Weight: 2.80 Carats
Do you love this piece but want a different stone/style? We have a beautiful selection of loose colored stones ready to use for your own unique piece! Contact us and we'll set up a virtual appointment with you and Taylor to start your own custom piece with your style and flair. We also love working with recycled precious metals and gemstones to turn them into new creations.

All fine jewelry items should be treated with care and check regularly, at least every 6 months.
At our store, we provide free jewelry cleanings & checkings for all Five Star Jewelry items.
Remove all jewelry before showering, applying lotion, perfume, exercising, washing dishes, gardening, etc.
When storing your jewelry, lay your jewelry out flat on a fabric surface to avoid tangling and/or scratching.
Use a soft toothbrush with a gentle dish soap to clean your jewelry items. (This does NOT apply to sterling silver, pearls or plated jewelry).
Do not clean any semi precious gemstones or pearls with chemicals, abrasives, or solvents.
All items in-stock will ship within 2 days of the order!
If your order is not in-stock, you will be notified for the following lead times:
If item needs to be resized, please allow up to 2 weeks for delivery.
If item needs to be made, please allow 4-6 weeks for delivery.
---
Free shipping on orders over $1,000
Fuchsia Pink Tourmaline Necklace
Shipping
Fast shipping
Once your piece has been made, your package will be shipped to you for 2nd day or overnight delivery!
Signature Required
All packages are shipped with insurance and require someone to be home to sign for the package.
If you are not able to sign for a package, you must contact us directly to ship your package to a local UPS or FedEx store.
Order tracking
Once your order has shipped you will receive the tracking number via text or email.